Siesta Beach House #103 Ground Floor Condo updated!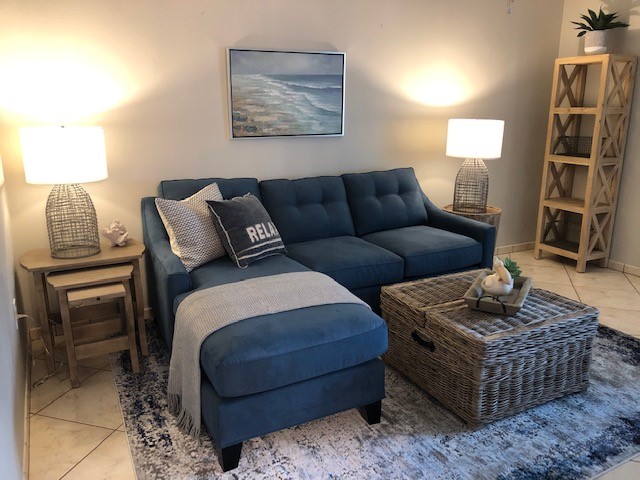 About the Unit
This unit was recently completely remodeled. New tile, bathroom and appliances. You will love this unit! This unit sleeps 2+2 and is equipped with a King bed and a Queen sleep sofa. It also has many modern electronics. Two HDTV's, Comcast X1 PVR, Smart BluRay Player with WiFi, WiFi AirPrint Printer, Free Phone service to USA & Canada. If you're looking for a great vacation location on beautiful Siesta Key, then look no further. This people friendly complex is the perfect place to bring the family for a true holiday get-away at the beach! You can enjoy swimming in the heated pool, take up a game of shuffleboard, stroll along gorgeous white sandy beaches, or swim in the crystal clear waters of the Gulf of Mexico.
View the YouTube Video:
https://youtu.be/eLXYKq8Ml18
Virtual tour
Amenities
Resort Amenities
Community Heated Pool
Laundry Facilities on Property
Parking Passes Required
BBQ
Beach Chairs Provided
Linen Exchange with a Fee
Shuffleboard
Unit Amenities
Fully Equipped Kitchen
Internet Access
Heat and Air Conditioning
No Pets Allowed
VCR/DVD
Local Call Capabilities
No Smoking
Details
Location: Siesta Key
Square Footage: 513
Bedrooms: 1
Bathrooms: 1
Occupants, max: 4
Adults, max: 4
View:
Neighborhood:
Home Type: Condo
Floor: Ground
Availability
| | | | | | | | | |
| --- | --- | --- | --- | --- | --- | --- | --- | --- |
| Status colors: | | Reserved | | Available | | Current Day | | Potential Reservation |
Feedback
Created
First name/Last name
Rating
05/12/19 12:00am
John And Nancy Balcarras

This year our toilette was constantly running when we arrived at unit #103, Sunday, April 14th. Melanie had the repairman there within hours on the Monday. Walking to her office and explaining the problem is more efficient for the guest than using a phone.
10/31/18 12:00am
Lois Stone
Excellent 1 week stay!
We spent a week at this condo in Siesta Key in October of 2018. It was our first visit to this area of FL and we hope to be back soon. Check in was easy with great instructions regarding our stay. The condo was comfortable and had everything we needed for a week's vacation. The walk to the beach was nice and close. We had our own parking spot, so no problem there. The white sand beach here is like no other. The water is clear and warm. I would highly recommend this condo for anyone looking for a relaxing vacation at the beach!
08/29/18 12:00am
Masino Susan
Thanks for the use of your lovely beach home!
I haven't stayed at the SBH for many years, but returned this summer with my son. You condo was very comfortable, well stocked and clean. Not to mention, the short walk to the beach and a refreshing pool. We look forward to coming back again!
07/30/18 12:00am
Megan Haga

My family and I planned a last minute vacation at Siesta Key beach. From the very beginning the staff were very helpful and super nice. The condo was wonderful and everything we expected and then some. We even decided to stay an extra night we were having such a good time. The office manager and cleaning lady(forgive me I can't remember your names) gave my son several souvenirs to take home that he was absolutely thrilled with. We couldn't have asked for a better place to stay or a more wonderful staff to work with. I think we have found our home away from home for the next several years!!
06/04/18 12:00am
Ilya Ivanov
Thank you for great vaction
We were very delighted to stay in your condo. All very well thought of: clean towels and beddings; umbrella to take to the beach; all necessary appliances; printer and even the wrapping paper! The beach is amazing and so close to the condo. Thank you! Definitely will recommend friends and will come back.
10/03/17 12:00am
Mariano Ontivero

Beautiful place, the apartment is ok and enjoy the beach, the sunset. I will be back Thanks
06/03/17 12:00am
Angela Delozier
I Love This Place
This place is awesome! WE had everything we needed right there in the condo.Your just steps to the beach and what a beautiful beach. The condo was cool,clean and the bed was so comfy. Perfect romantic getaway.
08/01/16 12:00am
Isidro Fraga

I have enjoyed the 3 years in a row that I have spent at Siesta Beach House. It is a week long vacation that seems to go by to fast and cannot come fast enough the following year. Rooms , staff and property managers are excellent. Never any complaints from myself or my family. Highly recommend Siesta Beach House to all my friends.
08/01/16 12:00am
Michelle Wilson
Great stay!
We had a great stay at siesta beach house. Small walk to beach, small walk to pool. Never had any troubles, would definitely stay here again!
12/29/15 12:00am
Jessica Couts
Look no further!
This place is AMAZING! It even looks better than the photos :) The condo had everything that you need.I would go back in a heartbeat! Siesta Key, is my favorite beach that I've ever been to! I have traveled around the world and there's no sand like Siesta Key! This location is perfect!
11/09/15 12:00am
Steve & Becky Becky Holder
Siesta Beach House
This was our first stay in Siesta Key. It was great. We stayed in unit #103. The place was spotless. Everything we needed except for food and drink was there. A perfect, quiet place to stay.
10/08/15 12:00am
Peter Jarvis
A great place to stay
The condo was excellent. The lounge furniture and bed were really comfy. There was an enormous amount of drawer and cupboard space and the kitchen was well equipped. All of these things were important to us as we were staying in this condo for a month. It was a very short walk to the beach (100 yards)and the pool was extremely welcoming and well kept. We had visited Siesta Key a couple of times before, but this was the first time we had stayed at Siesta Beach House. We would use them again, and request the same condo, if we have the opportunity to spend another holiday in this area.
07/29/15 12:00am
Peter Nguyen
Wonderful Place
We had a great time there. Location is perfect,clean and cozy and it's private. Everything is nearby and about 5 mins to the beach thru a private gate. We had a wonderful time and I would highly recommend this place to anyone.
06/07/15 12:00am
Mark Hummel
Best vacation place ever
Our stay at Siesta Beach House was delightful. The accommodations were perfect. The condo was fully equipped with everything you could possibly need. The convenience of having the beach a few steps from your door is wonderful. We are definitely coming back.
04/04/15 12:00am
George Morency
Best of the best
Excellent unit, everything necessary for a fantastic stay at the worlds best beach. Have met many people, who have become friends. No where else to vacation, but here.
09/02/14 12:00am
Scott Boundy
Great 1 Bedroom
We stayed in on of the 1 Bedroom apartments at Siesta Beach House. We found everything we needed there and it was just a quick walk to the private beach area. We enjoyed the beautiful Crescent Beach and lovely sunsets there. We will definitely be back! Great location and great vacation! Thank you!
Rooms details
Room Details
Name
Beds
Television
Bathroom
Comments
Master Bedroom
Queen
Full Bath
King Bed & 26" HDTV
Living Room
Queen, Sleeper Sofa
Queen Sleeper Sofa & 32" HDTV
Share with friend
Do you like this unit? Send your friends a link to our property with photos and information. Simply fill out the form below.